Are you an avid water bottle user? Is it on your desk all day at work? Thrown in your bag on the way home? By your side at the gym? On your bedside table at night? Your reusable water bottle is constantly getting filled and refilled, but is it getting the right kind of cleaning in between? Probably not.
Water bottles harbor tons of germs and grossness. Grime accumulates inside your bottle from mineral deposits and, well, backwash. You're already in the habit of staying hydrated and in the habit of using a reusable bottle, let's get in the habit of cleaning your water bottle too. Here's how to clean your bottles with one tool: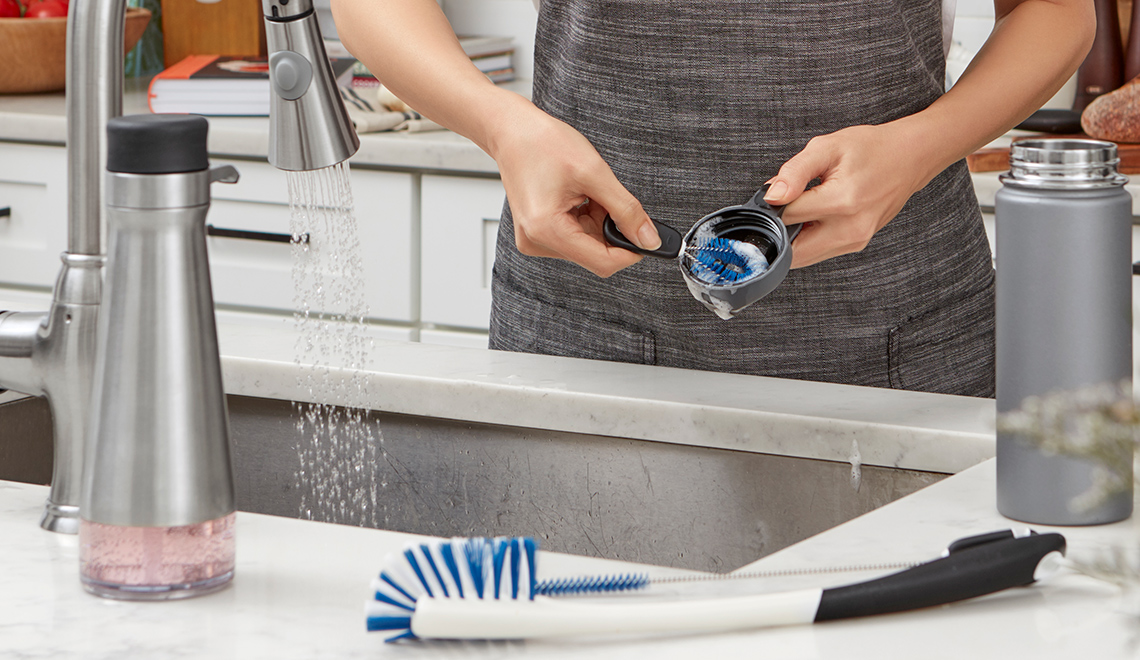 How to Clean Your Water Bottle Every Day
Wash your water bottle each day. Since this should be done daily, we're keeping it short and sweet. With a long bottle brush and soap, get to the bottom of the bottle and give it a scrub. Use the brush to also clean the spot where your mouth touches the lid. This area gets gunky and extra germy. Finally, give the outside a scrub. When your bottle rests in the water bottle holder at the gym, it's welcoming a whole fleet of germs that do not belong to you, so get rid of them. Then, let the bottle air dry overnight to keep funky odors away.
Do a Weekly Deep Clean
Take one day of the week to give your bottle a little more love. Use a straw brush to get inside sports bottle straws and a detail cleaner to get in the crevices and threads of caps and lids. If you're doing the daily cleaning, this weekly upkeep won't be so bad, plus you'll get a ton of satisfaction at seeing what comes out of your cap and straw. Again, let the bottle air dry overnight.
How to Get the Smell Out of Your Water Bottle
If you're battling bad smells or tastes, it's time for an even deeper clean. Use a solution of one part white distilled vinegar and 4 parts water (alternatively, you can use 1-2 heaping tablespoons of baking soda). Fill the bottle and let it sit for 10 minutes. Then rinse three or four times to make sure the vinegar scent is fully flushed out. And, you guessed it, let the bottle air dry overnight.
Wondering what else you're forgetting to clean often enough? Get our expert advice on how to clean your kitchen sink, the inside of your microwave, and everything you need to know about cleaning your kitchen.