Sweet and savory. Hot coffee and cold boozy drinks. Though it's easy to go out for brunch with a group of friends, what about hosting a brunch for your friends? It might feel a little daunting at first (how many eggs will I have to crack?!), but we have you covered. Here are our five tips for hosting a no-stress, better brunch.
1. Make-Ahead Brunch Recipes to Feed a Large Group
The most challenging part of hosting brunch is the limited time—who wants to wake up at 7am (on the weekend!) to prep for guests? We say pick dishes you can make the night before—little egg frittatas or egg cups made in silicone baking cups or a baked French toast casserole are good options. So are make-ahead quiches; they'll please the meat-eaters and the vegetarians in your crew and can be made mini in a muffin tin if that strikes your fancy. Finish all but the last 10 minutes of baking the day before your party, then pop quiches in the oven when guests arrive.
Or make a big batch of overnight oats, with all the fixings or smoothie bowls the evening before (freeze smoothie bowls, and let thaw 10 minutes before serving). Another possibility: Use up leftover slices of bread (no one will know, we promise) with a batch of yogurt toast; make an indentation in a bread slice, then fill with a mixture of eggs and yogurt. Bake or airfry, and serve with your choice of toppings (such as fruit, syrup and jam). Prepare ahead, then store and serve in a glass casserole dish.
A few more simple, tasty ideas: a bagel bar or Danish smørrebrød (rye bread served with a variety of toppings from smoked fish to fruit, nuts, fresh herbs and more). Or try these imaginative toast recipes. Prep ingredients a day ahead, so all you have to do the morning of brunch is set up the buffet. Cranberry or zucchini bread and muffins are more make-ahead crowd pleasers. For the muffins, you can mix up the batter ahead of time and freeze in baking cups, then bake the morning of your brunch. Need a recipe? The kids can help with these banana muffins.
In summertime, frozen yogurt cups (another easy, pre-made dish; just mix yogurt and fresh fruit) will be a refreshing menu item. Even pancakes can be prepped ahead of time. Mix up dry and wet ingredients separately in advance, then combine right before cooking.
2. Make-Ahead Drinks for a Crowd
Just like the dishes you'll be serving, your drinks can be made ahead too.
Coffee for a Crowd
For the coffee drinkers, make a big batch of cold brew concentrate the night before to have on hand for iced coffee. A pre-programmable 12-cup brewer (that'll have coffee ready when you wake up in the morning) will fill all the hot coffee requests. Or ready your French press or pour over coffee maker so all it needs in the morning is water. Study up on how to make great coffee at home, including grind size, the best coffee beans, and water-to-coffee ratios, so you can prep everything perfectly ahead of time. For a special sweetener, mix up some simple syrup that will melt into both hot and iced coffees.
Time for Tea
For the tea-drinking crowd, have a range of teas available, including herbal, green and black, and fill a kettle with water the night before brunch so it's ready to go on demand. Different types of tea like different brewing temperatures; an electric kettle will let you fine tune the water's heat. You can also pre-brew a batch of iced tea. A few ways to up the iced tea flavor factor:
Add fruit juice or lemonade to go Arnold Palmer style.
Steep frozen fruit along with tea leaves, then strain and sweeten if desired.
Try different types of tea: Herbal and green teas, like jasmine, are also delicious chilled.
Fresh fruit (berries, peaches, citrus) and herbs (mint, basil, rosemary) are tasty—and pretty—add-ins to the iced tea pitcher.
Cocktail Hour
Brunch isn't complete without Bloody Marys and Mimosas. Bloody Mary mix can be made the night before and guests can add the vodka themselves (+ keep a bottle of hot sauce out for guests who like their Bloodys spicy).
To add more flair to Mimosas, try a "Prosecco Bar" complete with different fruits and fruit juices to add. (Forgot to put the bubbly in the fridge last night? Here's how to speed chill it and other wines.) Strawberries, peaches and raspberries are a great place to start, and guests can pick and choose their mix-ins. Plus, get more ideas for big batch cocktails your guests will love.
Pretty up any drink or cocktail with pre-made, jazzed-up ice cubes: put water in ice cube trays or silicone baking cups, add fruit, fresh herbs or even edible flowers, then freeze. The cubes will be a fun surprise to guests' brunch beverages.
3. Put some Pressure on Your Eggs
The goal of hosting a brunch is to not become a short-order cook – you don't want to end up making eggs over easy for each person. Instead, we enlist a pressure cooker and cook a large batch of soft and hard boiled eggs for guests to pick from. If you don't have a pressure cooker, make a breakfast quiche or frittata for the crowd. (Check out the recipe ideas in #1.)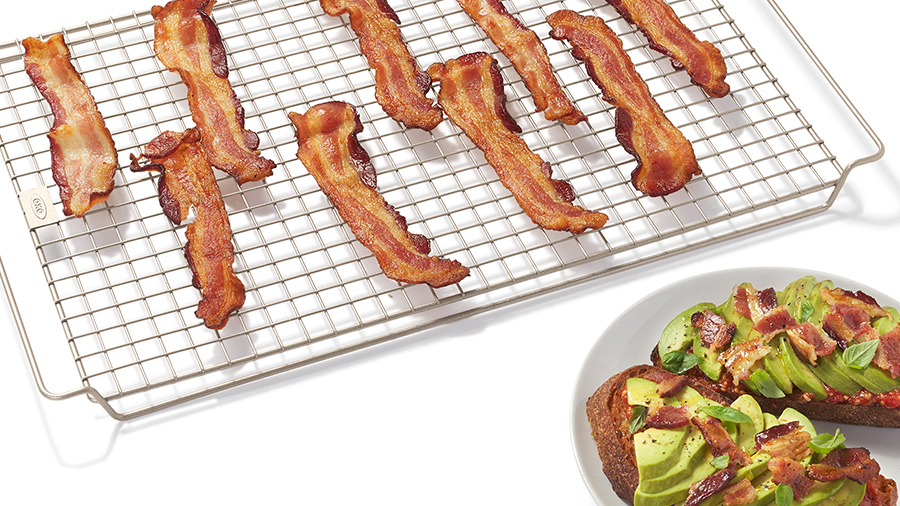 4. Baked Bacon
Crispy bacon certainly has a place at the brunch table, but spending time at the stove with bacon sizzling and grease splattering is no fun while you're entertaining. Instead, stick the bacon on a cooling rack on top of a sheet pan to collect the drippings. Turn the oven on right before your guests arrive and you'll have warm bacon for serving.
5. Let it Linger
I don't know about you, but brunch always is a long affair, as it should be. If I'm hosting, I have a tendency to jump up and start cleaning as soon as people finish eating. But brunch is different. It's time to recount the previous night and spend time with friends. Don't be afraid to let the dirty dishes pile up; you'll get to them later.
Ready to get cooking? Check out these heart-shaped cinnamon rolls, this poached egg primer, and more breakfast ideas you can meal prep.